@Hunterdon central regional High school in Flemington, NJ
Providing Exciting Opportunities to the Children of Greater Flemington
2020 season delayed!

The beginning of the Red Magic season has been postponed due to the novel Coronavirus. We will look to get started in a couple of weeks once the situation stabilizes. Until then, stay healthy!



registration for the 2020 season is still open!

Adult distance training
Is Back!
if you are interested, click here for information




Our Mission: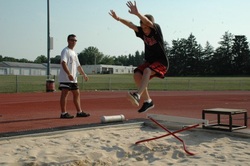 Track and Field is a sport that has something to offer everyone--from running to jumping to throwing. These events develop speed, power, endurance, coordination, balance, self-confidence, and team work in children and provide a healthy avenue to physical fitness and social development. Not everyone is cut out for baseball or lacrosse, but track and field is accessible to young athletes of all abilities.
We believe that youth sports should be for fun. According to the most recent NCAA statistics, roughly 5% of high school athletes go on to participate in college athletics and of those 5%, only 1% receive athletic scholarships of any amount. Our goal is to lay the foundation for future success in track and field and in life by teaching and practicing the fundamentals of each event. For us, success is improvement, not necessarily winning. The Red Magic Youth Track Club emphasizes practice in a non-threatening environment and offers some competitive opportunities to those who are interested. Every practice consists of a thorough warm up and cool down, instruction, form work, workouts, and competition.
While the trend in youth sports is to specialize in one sport, we believe that athleticism and fitness are developed through many different movements. With this in mind, we encourage our athletes to try all of the events, but ultimately we leave the event choices to the athletes.
---
about us:
The Red Magic Youth Track Club is a USATF-certified club whose coaches are required to undergo a criminal background check. All coaches, athletes, and the host site are insured through the benefits that come with USATF membership. The club was established in 2012 by Jon DeLisle and the late Warren Todd. Red Magic is one of three youth track clubs in Hunterdon County. Our clinical approach is one of a kind.